The Kalibo Ati-atihan festival is a yearly celebration in honor of the Kalibo patron, the Santo Niño!
It is celebrated with an array of elaborate costumes and street dancing to the rhythm and beat of the drums and lyres.
This story has been long overdue…
Nevertheless, now is the time for me to write down the events that transpired in 2019!
Armed with my Canon mirrorless camera, I had that rare opportunity to capture memories while at the same time enjoying every moment spent.
So, join me as I share the narrative of my first-hand experience of the ati-atihan festival!
The Kalibo Ati-atihan Festival
Kalibo ati-atihan is celebrated annually on the third Sunday of January in Kalibo Aklan. Dubbed the mother of all Philippine festivals, it is a celebration of elaborate themed parades and street dancing. The main participants are judged on the third Sunday as it caps the weeklong festivities. Organizers of the event will hold a rally as early as October, to notify all participating groups and tribes which also marks the opening salvo- that's basically to say, let the celebration begin!
Prelude to the 2019 Ati-atihan Festival
I grew up in a small rural area (barangay) in Kalibo and I completed high school at Kalibo Institute in 1986.
Many said that you could form a special bond of friendship during our high school years… which I think most of you will agree with me.
For me and my batchmates, this seems to be the case.
Just don't ask "who is your crush"… because chances are, it could be the same person (and you'll end up as enemies instead… but no, not really, we're all grown-ups and have our own families).
Thank goodness slambooks are not digital during our time, or else they would pop up as memories every time in our feeds.
While it took us 33 long years to locate most of our batchmates, we're glad we are finally connected… shout out to Facebook for that!
To make a long story short, our batchmates living in Canada and USA did the impossible and started scheming for a grand reunion!
Planning for a grand reunion?
There's no better way to celebrate our homecoming than joining the Ati-atihan festival.
Reunited
So we planned and organized a two-day reunion activity last January 15 & 16, 2019!
The first day was a gathering to reminisce our high school memories and to enjoy each other's presence.
When I left Kalibo in 1986, it was the first time for me to see most of my classmates again!
The organizing committee has prepared food and games to make our first-ever gathering a memorable one.
And we're lucky enough that most of our teachers have graced our batch reunion.
It was a sight to behold, to once again see our dear teachers in high school after 33 years.
The first day of our reunion was splendidly awesome!
A day filled with laughter and camaraderie! Just relishing the moment!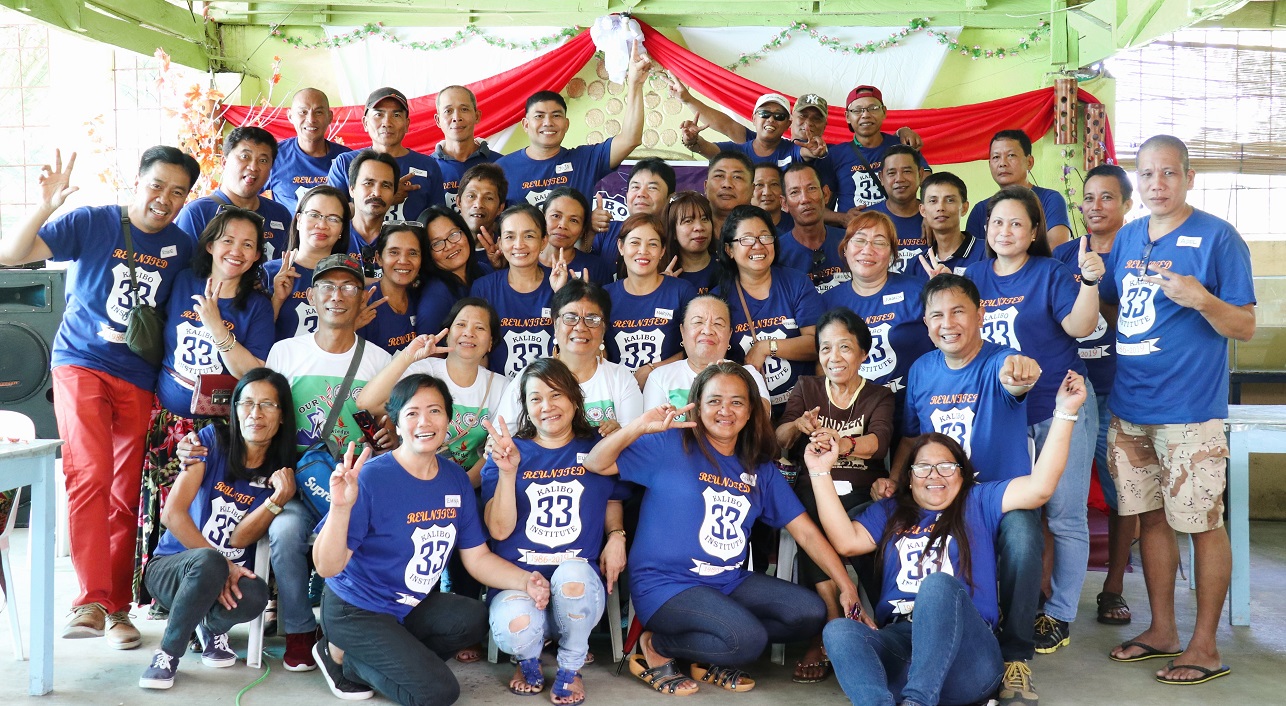 With the help of a tripod and self-timer, the above photo was a perfect shot of KI Batch'86 with our beloved teachers (seated in the second row) using the Canon M5 mirrorless camera.
Sadsad (the local term for street dancing during ati-atihan)
Day two of our grand reunion was to join the ati-atihan. We've booked a band to help us with the music so that we can strut on the streets to the beat of the drums and lyres.
As I have mentioned, as early as October, you can already hear the sounds of the ati-atihan as many groups start to prepare and practice for the big event come January.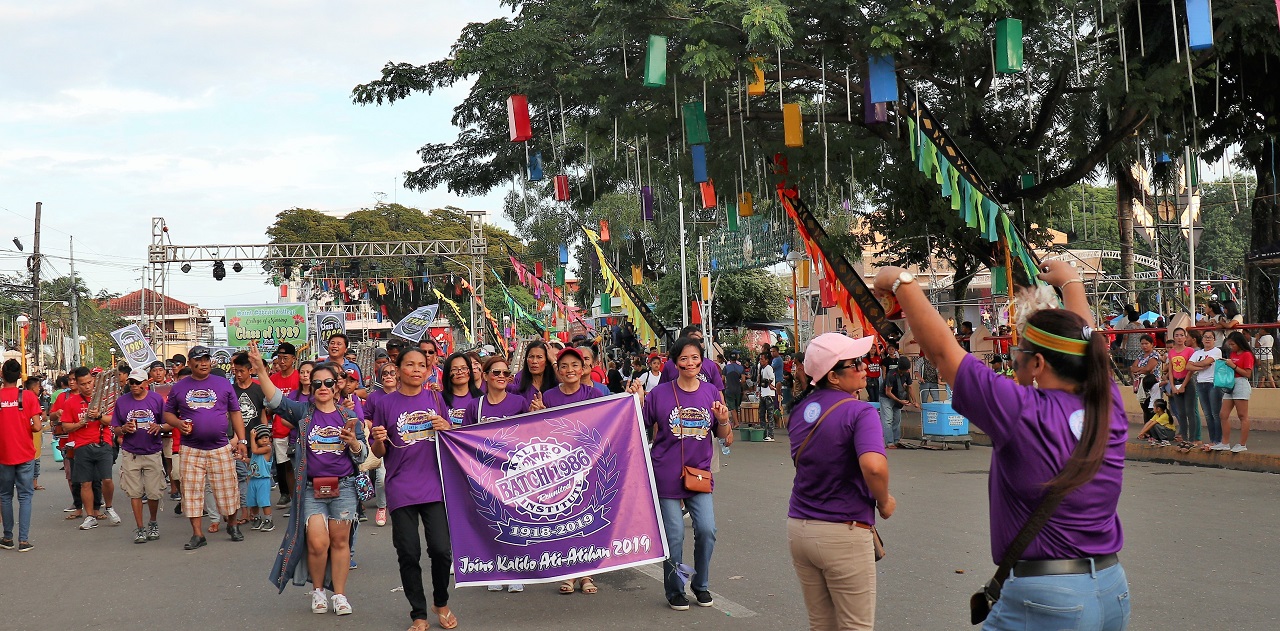 As our high school alma mater just celebrated its 100 years of existence a year before, we prepared a centennial t-shirt as our uniform during our activity.
It was yet another fabulous day!
This time a day of dancing and enjoyment as we navigate the major streets going to the town plaza, where we bumped into other groups.
And once that happened…
The area just exploded as each band tried to outdo the other.
The Main Event
So after our two day activity it was time to wait for the main event.
On Sunday (the third Sunday of January) is when the major participating groups show their best (as they'll be judged).
Yes, all the participating groups are categorized and have a chance to win big prizes.
So, I took my mirrorless camera with me and went to watch the show. Below are some photos that I took while enjoying the beat of the ati-atihan and the scenery.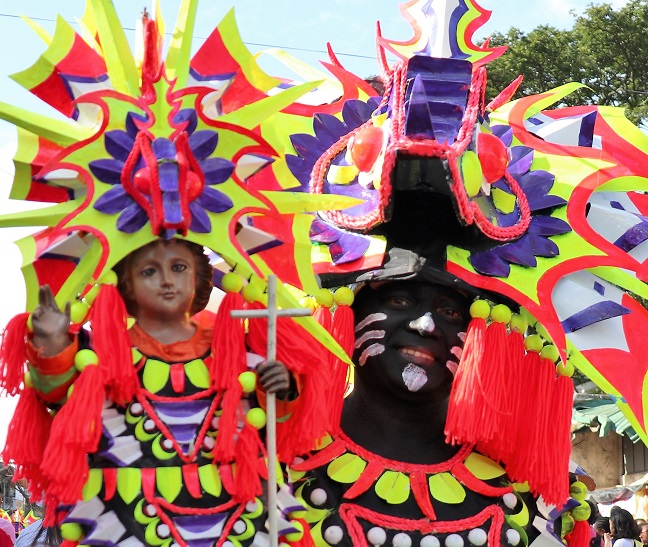 What I have noticed is that…
Aside from being tired and even with their intricate outfits, which I guess are heavy… most of the participants still managed to wear a SMILE.
Which to me fulfills the whole essence of the festivities… that is to ENJOY the moment and just be HAPPY!
What's in store for 2023 and beyond?
We all know that by the end of 2019, the whole world was paralyzed by the pandemic. No one can leave their houses, and much more could travel.
And for three straight years, the Kalibo Ati-atihan was canceled.
But here's some good news…
The opening salvo of Kalibo Ati-atihan 2023 was made this month. It's to signal that Kalibo Ati-atihan is alive once again!
And what a coincidence…
Our batch has organized yet another reunion this coming January 11 & 12, 2023 (again initiated by our mates from Canada and the USA).
We've been REUNITED in 2019 (that's after 33years). And we want to RE-CONNECT in 2023 (which marks our 37years as friends after we've graduated from high school).
T-shirts have been printed, and the venue decided… can't wait for this day to come.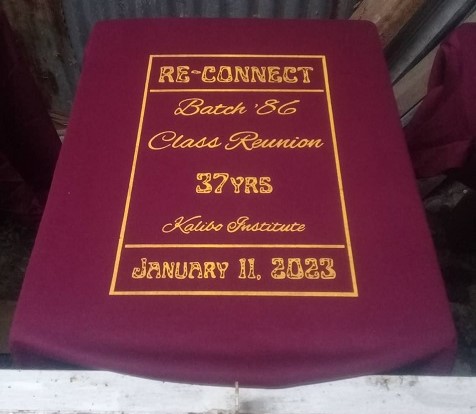 What's special about this is that My Mirrorless Cameras (yes, this website) sponsored our reunion t-shirts!
On the other hand, the banner for the Ati-atihan is done and ready.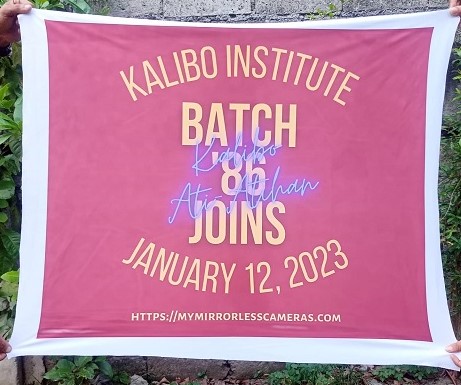 So, all are set for Kalibo Ati-atihan Festival 2023. I just hope that the Covid protocol here in China relaxes so that I can join my batchmates come January 11 & 12 in Kalibo, Aklan.
And for our group, we are hoping to keep this activity a regular event.
Something that we can look forward to (especially for those of us who are living and or working overseas).
Because it's always a good feeling to go back home… to reunite with our friends and families.
As the old saying goes… there's no other place like home!
Happy Fiesta Kalibo… Viva Señor Santo Niño!