In this article I will be talking about digital cameras accessories that are necessary in order to protect, preserve, and get the best performance out of your expensive mirrorless cameras.
This is especially for beginners- some of these accessories should be a priority. It is better to have them than being sorry later. Of course I can agree that some accessory might not be that important to others but I will be touching on the basic and must have camera accessories for your consideration.
Camera Bag and or Camera Backpack
Camera Bag

Camera bag is essential and a must have accessory for beginners. Oftentimes, camera bag is not included when buying a mirrorless camera. Camera bag will not only protect your unit but will also help you organize when you're carrying other small stuffs such as charger, extra battery, extra memory card, cleaning kits, etc.
As camera bags comes in different sizes make sure to buy a camera bag that would fit your camera nicely and still have some room for your other accessories to hold them as well.
Camera bag ensures that your camera unit is protected from drops and bumps while not in use, so make sure to purchase padded camera bag for best protection (below example is my own camera bag for my mirrorless camera)

Camera Backpack

Another option is the camera backpack, while it is more bulky, it has its own purpose and advantages.
Professional photographers and maybe even some camera enthusiasts will always go after camera backpacks for one obvious reason- normally they'll have to carry bunch of camera gears when going out for a shoot, thus camera backpack will come in handy.
Extra Rechargeable Battery or Spare Battery
Another must have accessory in your arsenal is an additional battery. Out of your new camera box you will only get one battery pack. It is important to have a spare battery and it will be useful in case you are going out to shoot for longer hours.
We knew that mirrorless camera's battery life can only hold for a certain period. To guarantee you don't miss any moment you want to capture while you're on shooting marathon, an extra battery inside your camera bag will keep you nonchalant and on target.
It would be an unpleasant experience if you have something to cover say for example one of your child's school performance. Then suddenly you run out of battery with no spare to pull-out, so basically you failed to capture the remainder and the most important moment of your kid's performance and you could only blame yourself for the missed opportunity.
Below example image is my own batteries for my mirrorless camera. I have two battery packs and I always carry them fully charged before going out for some random street photography.
Additional Memory Card
Comparably just like the battery, an additional memory card is also a must have accessory in your list.
Whilst you're on a shooting spree you'll realize sooner than later that your memory card is not enough especially if you are shooting RAW (RAW format eats-up a lot of storage space and for beginners it is not a recommended setting).
Depending on your bargaining power and what other accessory you may want to request, normally you should get one memory card free of charge. However, retailers will only provide you smaller storage size memory card.
Consequently, it is always best to have an extra ammunition when going out to the battleground. That way it will give you more freedom to shoot as many photographs as you wish, so an additional memory card inside your camera bag is a plus.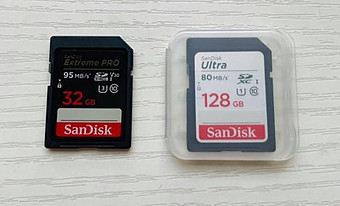 The above image is my actual memory cards that I always carry too. The 32gb SD card I got for free and paid for the 128gb.
Cleaning Tool Kit
Another necessity for camera lovers. You want to keep your mirrorless camera tidy and clean especially after a long day of shooting or just to maintain that your camera in good condition.
In some cases, while you're shooting you may also need to clean your lens from time to time because sometimes you accidentally touch the lens leaving a fingermark. And also some dust particles can easily migrate to the lens's surface.  Thus, a cleaning kit is a must accessory to have!
Below is the image of my own cleaning kits I always take with me, it includes an air blower, cleaning cloth, screen cleaning wet wipes and portable pen brush.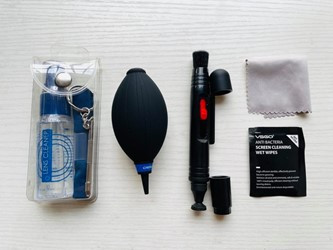 Camera Tripod and or Monopod
Camera Tripod

Tripod is necessary especially if your are shooting long exposure scenes generally at night and in low light settings.
Tripod gives more control and stability rather than just holding the camera by hand and or by using monopod. At low light condition any slight camera movement will result in a blurry image.
If you want to make sure you have the best long exposure photograph then a tripod will serve its purpose.
There are many types of tripods, get what is ideal or suits your need.
For traveling a lighter tripod will be ideal and should be the best choice.
Below image is my actual foldable tripod, it's lightweight and suitable to carry when traveling.

Monopod

Monopod is another popular option because it's lightweight and portable (mobile).
Monopod are most popular for wildlife and sports photography because it helps photographers stabilizes their huge and long lenses as compared to holding it by hand instead. Moreover, it gives them the option to move quickly as they chase the action which they can't do with the tripod.
Monopods are not recommended for long exposure shooting.
Monopod is a good option for travel as it is lighter and occupies lesser space compare to tripod.
Other Optional Accessories
UV Protection Camera Lens Filter

This accessory is quite controversial in a sense that there's no definitive answer whether it is really necessary or not.
Many photography experts don't like the idea of having UV protection lens filter attached all the time as some of them (low quality UV lens filter) is presumed to block some light instead that could affect image quality.
Could act as protection from accidental scratching, dust collector instead of the dust directly penetrating camera's lens, could also protect from sand intrusion when shooting at the beach, etc.
Personally I am using UV lens protector (see below image of my mirrorless camera). I have compared images with and without the UV lens and there was no obvious difference in the resulting photograph so I kept it attached to my camera lens all the time.

External Flash Unit

With external flash farther subject is better illuminated.
For enthusiast and professional photographers external flash is an essential accessory.
But for beginners, external flash is really not necessary, your mirrorless camera's built-in flash is more than enough.
Note that some mirrorless cameras don't support external flash.
Accessories Are Add-Ons, What Will You Do?
While some accessories maybe are only optional, some are highly recommended accessories and should be considered especially by beginners.
Without a camera bag you will be carrying your mirrorless camera hanging around your neck all day, unless you are comfortable with it then maybe camera bag is not a must have accessory for you.
Similarly, for spare battery and spare memory card these two are essential accessory as well, not to mention the cleaning kit.
It still all depends on your ability, if you have the budget I suggest you go for the essential add-ons and then you can purchase other camera accessory when the need arises.
Finally, what camera accessories are you going to get?