I wanted to document this encounter that happened last week when my wife, my daughter, and I were walking going to the park. We noticed ahead that one guy was being harassed by a black bird alongside a busy road… it's my first time seeing a small bird chasing a man!
As we approached the area, the man said to us that he was just passing by, but the black bird won't let him go.
… amazing, lol
What provoked the bird to chase the random guy is unknown. I joked maybe the bird was attracted to you… could be love at first sight?
… well who knows, hahaha
Since I brought my Canon EOS M5 mirrorless camera with me, so I started taking random photos of this experience.
The Black Bird is known as Crested Myna
I told the story to my brother (co-founder of this website) who is a bird enthusiast… you can check his Birding Diary.
He then immediately identified the bird as Crested Myna. See, he's now becoming a walking bird encyclopedia.
When I checked his birding diary, it mentioned that this is a resident bird in South China.
No wonder, I can see a lot of these birds even here in the place where we live.
Small Bird Chasing Man
As we were approaching, I saw a small black bird following or pursuing the guy.
You can see in this image how the small bird earnestly follows behind the man.
I always pass by this road and never had encountered a bird chasing anyone except for this particular moment.
Then the bird started to attack the guy that puzzled him… and the man's only reaction was, what the hell do you want.
Oh God, I could only empathize with this guy.
He tried to ask me if I know the name of the bird… I just responded no, because I have no idea what is this bird and why it was acting aggressively towards him.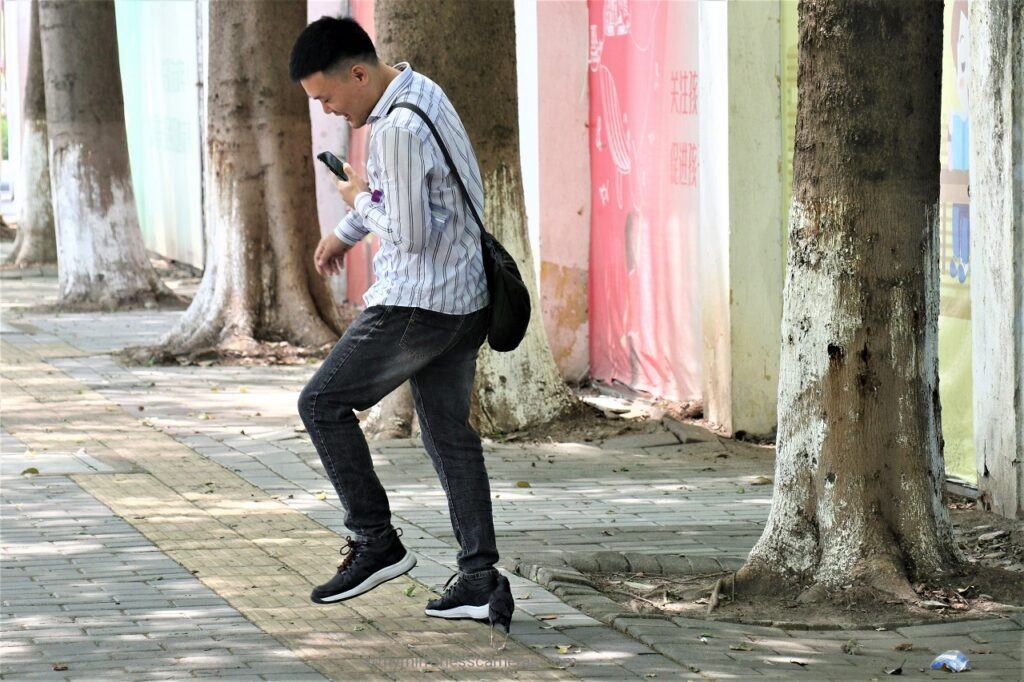 But, I guess he's still lucky that this was just a small bird and he can just laugh it off and enjoy his unique experience.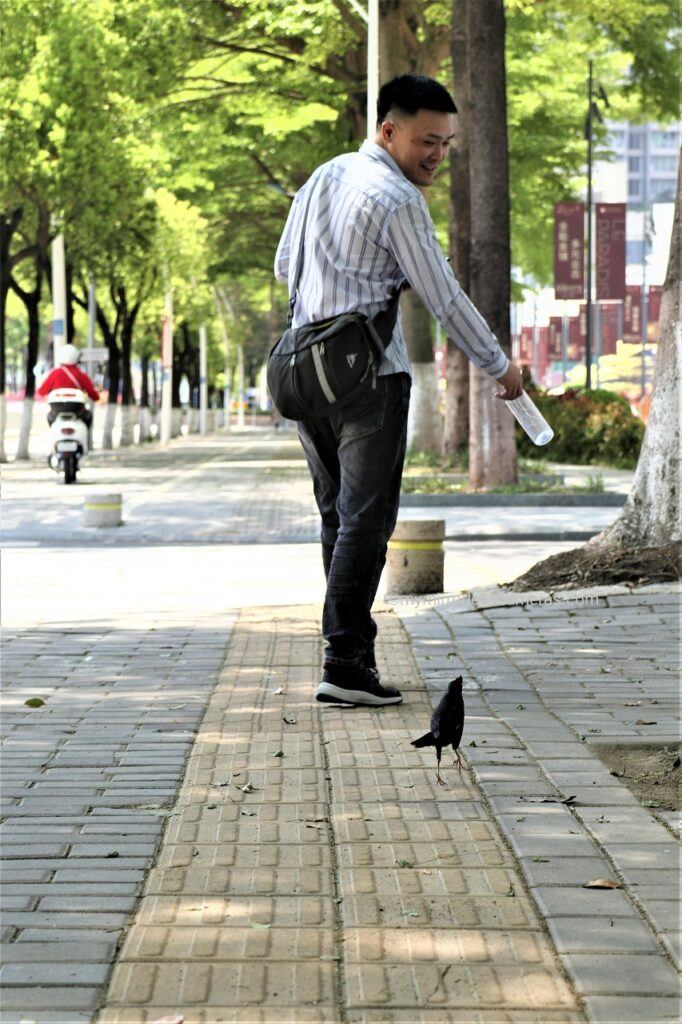 From the look of it, I think the guy was enjoying his once-in-a-lifetime encounter with nature.
The Stare!
I moved nearer to capture an image of the bird at a closer range… then this stare happened, lol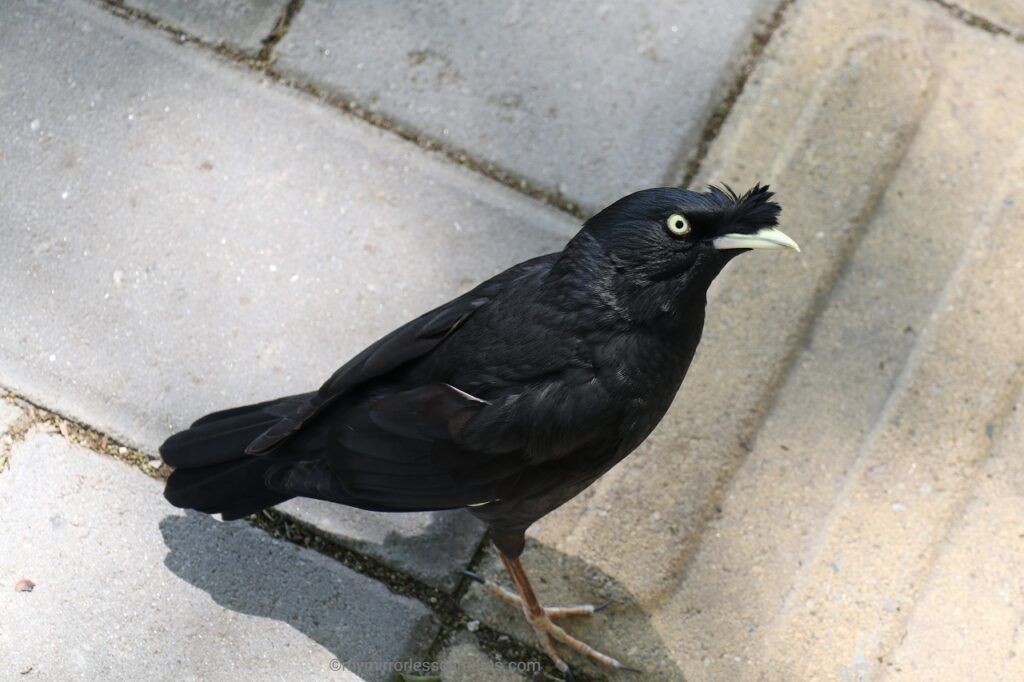 Fortunately, the bird was locked in on the other guy and just gave me a creepy look.
I'm guessing this bird was probably telling me, don't even think about it… that is to come closer!
So, I left them behind (the random guy and the crested myna) and am not sure how the chasing has ended.
What does it mean if a bird chases you?
A bird would only attack if they think that its territory is in danger, especially if the mother bird is protecting its nest or the young.
Another reason is if you are holding something such as food or trying to feed the bird, that could have attracted their attention and become aggressive.
I remember when we were on a tour and we were going to hike a mountain where monkeys roam freely. It is prohibited to bring any plastic bags as the monkeys will attack anyone who's holding a plastic bag because they think there's always food inside a plastic bag.
What to do if bird chases you?
The best way is to leave the area that is being protected. Any bird will only become aggressive and attack if they think they're in danger (and I think this applies to any animal). Cover your ears, eyes, and face as these parts of the body are vulnerable to birds attack. Then run or walk away from the area that is being guarded.
If you're not a threat to them you won't be attacked.
One good example is a mother duck or a mother hen. Don't even think about getting closer to their chicks if you don't want to get beaten.
Another known being notorious for attacking humans is the goose. I've been a victim lol, so every time I see a goose I try to avoid them.
Final Thoughts
I hope you were entertained by this story, a unique encounter for me.
This was one of those unexpected moments in street photography. A lot is going on in the streets and you will be amazed if you could capture such experience with your mirrorless camera.
On the other hand, please remember that any animal will only attack you if you are a threat to them.
… or worse may look like food to them (this part is scary).
… and or you may have provoked them to become aggressive towards you.
Ignore them and they will ignore you!!!
There you have it, folks, once again thank you for reading. Please leave a comment if you have questions or suggestions, and I will try to answer them as soon as I can and to the best of my knowledge.
---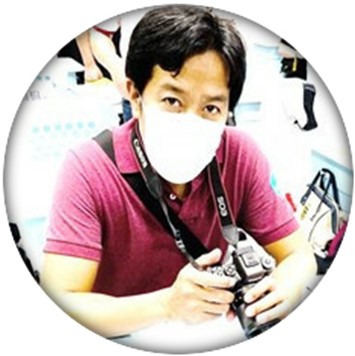 About Rowe Medialdea:
Hi, I'm Rowe, a mirrorless camera and photography enthusiast. We have created this site to be of help (especially to beginners) by producing easy-to-understand content about mirrorless cameras! Welcome to our website!
---