Choosing the most suitable SD card could impact the overall performance of your mirrorless camera. So, how do I know which SD card to buy for my camera? This is a question that we will be answering in just a moment.
SD card is an important component of your mirrorless camera that you should capitalize on to get the best performance and experience.
Like other digital camera accessories, I have discussed in my previous article What are the Digital Cameras Accessories that an SD card is an essential accessory. Thus, obtaining the correct type must be considered.
What is an SD Card
An SD card is a type of flash memory card that can store digital information such as images, videos, and other electronic data files.
SD stands for Secure Digital, a type of memory card format introduced in 1999 by Panasonic, SanDisk Corporation, and Toshiba Corporation.
Wherein, these three companies then founded SD Association in January 2000. The main objective is to design or develop and promote memory card storage standards.
Became the most popular and highly utilized memory card in all sorts of electronic devices that needs storage cards.
Types of SD Card
There are currently four types of SD cards based on capacity standard, they are as follows: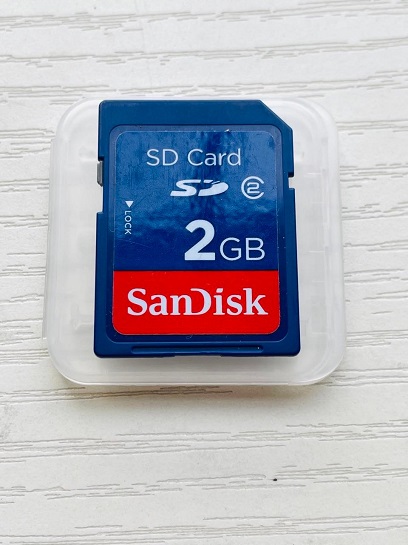 SD standard
This is the old version of memory card, with maximum capacity of 2GB.
This type of SD card is still usable in some application but not suitable in newer mirrorless cameras because of small storage capacity and slower bus speed (12.5MB/s)
This memory card sample was used on my old digital camera.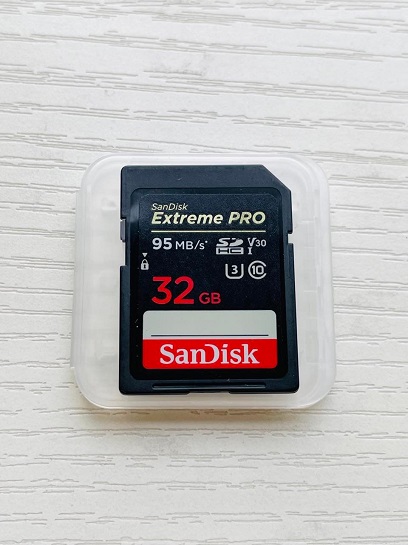 SDHC standard
"HC" stands for High Capacity
SDHC memory card has a minimum 2GB and maximum 32GB capacity.
SDHC memory cards that don't include the UHS-I mark has a bus speed of 25MB/s.
This 32GB Extreme PRO SDHC UHS-I V30 memory card was a freebie when I bought my Canon EOS M5 mirrorless camera.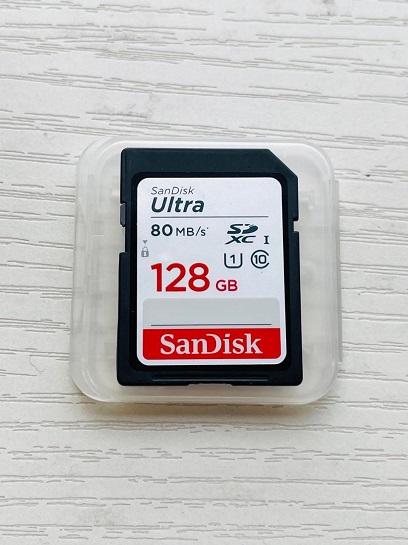 SDXC standard
"XC" stands for Extended Capacity
SDXC memory card has a minimum 32GB and maximum 2TB capacity.
This 128GB Ultra SDXC UHS-I memory card I bought will be mostly utilized for shooting still images as I want to chronicle the activities of my daughter.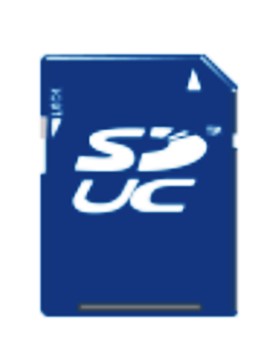 SDUC standard
"UC" stands for Ultra Capacity
This SD card has a minimum of 2TB and a maximum 128TB capacity. This type of SD card could be used for special storage applications.
You won't be needing this type of memory card for your photography.
Notice: "As an Amazon Associate I earn from qualifying purchases". There are affiliate links on this page. I will get a small commission at NO EXTRA COST to you once you decide to buy through these links. Full disclosure.
SD Card Markings Explained
Let's examine what does the different markings represent in an SD card, refer to the illustration below: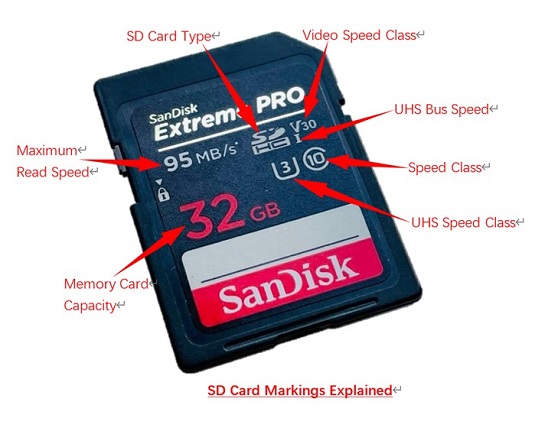 SD Card Type

– as defined above there are four types of SD cards based on capacity. However, according to the current photography device and requirements, the below types of SD cards are commonly utilized.

SDHC – capacity from 2GB up to 32GB
SDXC – capacity from 32GB up to 2TB (popular capacity usage: 32GB, 64GB, 128GB)
Video Speed Class

– video speed has five classes and it denotes the capability of an SD card to record 8K, 4K, FHD, HD, and standard video formats.

V90

Best for recording 8K video at minimum sequential write speed, 90MB/s

V60

Capable of recording 8K and 4K videos at minimum sequential write speed, 60MB/s

V30

Able to record 8K and 4K videos at minimum sequential write speed, 30MB/s

V10

Capable of recording 4K, FHD, HD, and standard videos at minimum sequential write speed, 10MB/s

V6

Able to record 4K, FHD, HD, and standard videos at minimum sequential write speed, 6MB/s
UHS Bus Speed

– UHS bus interface is denoted by roman numerals I or II. These are the common UHS bus speed being utilized and currently applied in photography.

UHS-I

Theoretically denotes the maximum transfer speed up to 104MB/s
Consist only of single row terminal contacts, see figure below.

UHS-II

In-theory denotes the maximum transfer speed up to 312MB/s
Contains double row terminal contacts, see figure below.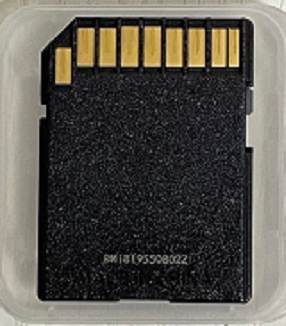 Remarks: 
1. UHS-III is a much more advanced UHS bus interface with bus speed up to 624MB/s. 
2. SD Express is the latest bus interface that boasts a super-fast data transfer rate of up to 3940MB/s.  
Speed Class

– this is the original speed class denoted by the letter "C" and a number that corresponds to the minimum sequential write speed.

C2 (Class 2)

Minimum sequential write speed, 2MB/s
Lowest speed class, not utilized anymore because of the higher requirements of today's devices

C4 (Class 4)

Minimum sequential write speed, 4MB/s
Hardly utilized as newer devices required higher specifications

C6 (Class 6)

Minimum sequential write speed, 6MB/s
Hardly utilized for the same reason, newer devices required higher specifications

C10 (Class 10)

Minimum sequential write speed, 10MB/s
Currently, the minimum requirement or industry standard of newer devices requires faster speed and higher performance capabilities
UHS Speed Class

– another speed class of UHS (Ultra-High Speed) memory cards is denoted by the letter "U" and a number. There are two ratings for this speed class which are also common in SD cards applied in photography. The UHS Speed Class refers to the capability of the SD card to record 4K video format.

U1 (UHS Class 1)

Minimum sequential write speed, 10MB/s

U3 (UHS Class 3)

Minimum sequential write speed, 30MB/s
Memory Card Capacity

– memory card capacity marking denotes the maximum storage capacity of the SD card. The most common storage capacity utilized in photography are the following:

32 GB

Ideal for beginners and also budget-friendly

64 GB

All around type of SD card both for still and video captures

128 GB

Ideal for those who constantly shooting videos, hence, a bigger memory card capacity is necessary
Maximum Read Speed

– this marking denotes the declared read speed of the SD card. However, actual read speed may vary depending on the device and other factors. Let's take a look at the below example, three SD cards with three different read speeds.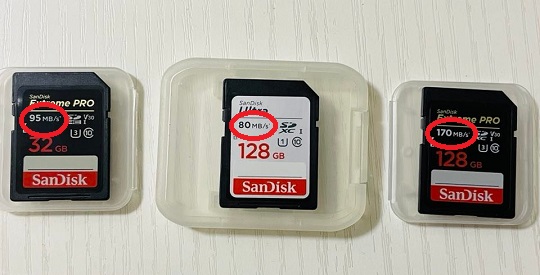 To find out more about SD card's read speed, here's a good resource from cameramemoryspeed.com
Note: 
1. SD card markings will determine the price of the memory card. The higher the specs the pricier the SD card will become.
2. All the above markings are both applied to Standard size SD cards as well as Micro-SD cards.
Sizes of SD Card
Two kinds of SD card sizes are currently being utilized on digital cameras. They are the following:
Standard SD card

This SD card size is commonly used in all mirrorless cameras
Dimension: 32.0 x 24.0 x 2.1 mm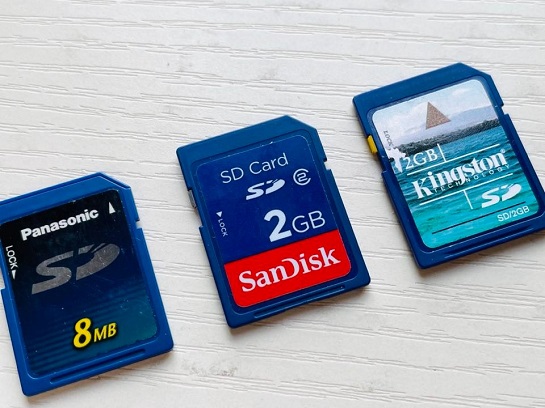 Micro SD card

This SD card size is normally used in compact point and shoot digital cameras
Micro-SD card adapter will be needed if a memory card of this size is to be utilized on devices that only accept a standard size SD card
Dimension: 15.0 x 11.0 x 1.0 mm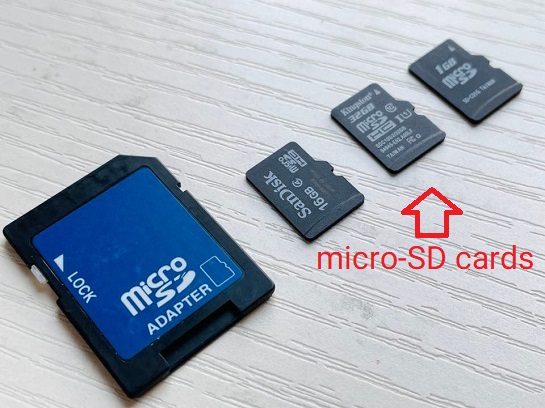 Trivia: The memory card was invented in 1980 by Fujio Masuoka at Toshiba. And was then introduced in the market for commercialization in 1987.
How Do I Know if my SD Card is Compatible
It is important to note that there are many types of SD cards and they have their own merits according to their designed application as explained above.
Before deciding on buying an SD card, make sure to check your mirrorless camera's storage media specification.
As an example, I own a Canon EOS M5 and it has a storage media specification below.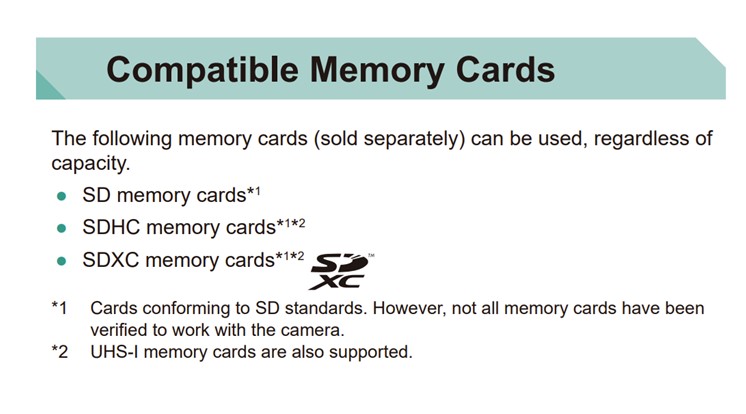 Based on the above requirement, I can only buy Standard SD cards, SDHC, and SDXC. While my mirrorless camera can only support the UHS-I bus interface.
So, buying a UHS-II SD card and higher will be futile! Since it cannot be utilized and would only result in SD card error and waste of money.
Notes:
1. Some Sony mirrorless camera still uses Memory Stick Duo, especially dual slots mirrorless cameras.
2. Nikon on the other hand is utilizing CFexpress and XQD memory cards on its Full-frame segments. 
What Capacity of SD Card Should I Buy
Deciding on what SD card to buy will all boil down to what you shall be doing most.
Currently, I have already four types of SD cards for my Canon EOS M5 and Sony A7 III.
Sony SDHC, UHS-I, 90MB/s, 32GB
If you are planning to buy an SD card, you won't go wrong with the memory card below.
It is highly recommended even by professionals. But of course, you can do your research and compare it with other brands of SD cards.
But remember that brand name could always influence the price of any product. Most importantly, make sure that it is compatible with your mirrorless camera!
Conclusion
By now, you should have a good grasp of how to choose an SD card for your mirrorless camera.
We have established which SD card to consider by defining all the markings specified on the memory card. You have now the knowledge and should be able to decide which one to buy according to your need.
But as I pointed out earlier, you won't go wrong with 64GB capacity.
Professionals even suggest not to use or buy too large SD card memory, because once it fails all you're data will be lost forever. Whereas, if you have a smaller capacity SD card you will be forced to back up your data in your laptop and or another external storage device.
Another point to consider, if your mirrorless camera is capable of recording 4K video it would be better to buy a V30 or U3 SD card type to fully utilize performance capabilities.
So there you have it folks, once again thank you for reading. If you find this article helpful or you have some questions please leave a comment and I will try to answer them to the best of my knowledge.
---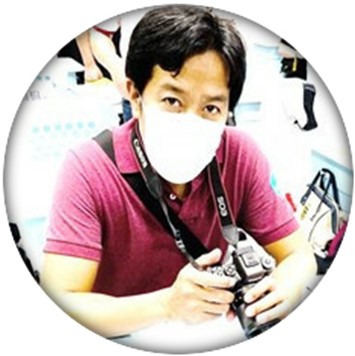 About Rowe Medialdea:
Hi, I'm Rowe, a mirrorless camera and photography enthusiast. We have created this site to be of help (especially to beginners) by producing easy-to-understand content about mirrorless cameras! Welcome to our website!
---