Canon's proclamation of the new EOS R3 (last April 2021) is a welcome development to all mirrorless camera fanatics and Canon users in particular. This new Canon mirrorless camera will rest atop R5 and R6 models that have gained popularity because of its amazing tracking ability.
EOS R3 was developed as Canon's first high-end mirrorless camera targeting professionals and enthusiasts. EOS R3 was designed for sports and wildlife (all-in-one package) and could also be a good mirrorless camera for photo journalists!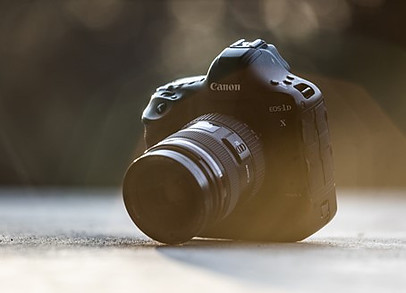 Somewhat it resembles to a DSLR (Pro) body design from the early stages of which is closely similar to Canon EOS-1D X (see above image for reference only), but make no mistake EOS R3 is the latest new Canon mirrorless camera built for high speed performance and reliability!
Latest Rumor
EOS R3 although not officially confirmed to be Canon's flagship model for EOS R series but the good news to Canon's fan base is that it will be made available globally this November 2021.
EOS R3 was developed with Canon's new 35mm full-frame stacked CMOS sensor (back illuminated).
Canon is also introducing comparatively new and affordable lenses for EOS R system.
New EOS R lenses that Canon is introducing:

Ultra-wide compact prime lens: 16mm f/22
Telephoto/Zoom lens: 100-400m f/5.6-8
And according to Canon's press release, the goal is to continue expanding the possibilities for imaging and will continue to enlarge its line up for EOS R system with impressive mirrorless cameras and lenses. With that being said we might be seeing more surprises from Canon and sooner than later will we see the official flagship model for EOS R system.
Performance Expectation (as Advertised)
When EOS R3 was announced early this year, Canon was set to raise the standard in mirrorless camera development!
EOS R3 development concept:

High Speed
High Sensitivity
High Reliability
EOS R3 is the first EOS series in Canon's mirrorless camera segment sporting Canon's new developed 35mm full-frame stacked CMOS sensor that would enable camera's capability of fast readout for rapid shooting (up to 30fps for electronic shutter with AF/AE tracking).
EOS R3 is the most powerful mirrorless camera that Canon have designed to this date. And one of the most innovative feature which also first in Canon's mirrorless camera segment is the eye control function.
Eye Control Function- enables the auto focus (AF) to adjust according to eye movement of the user!
When looking through the viewfinder to shoot still images eye control function is one feature that will surprise the user how intuitive focusing will be with just the movement of the eye.
Another feature to lookout is the body's design that provides protection from dust and water intrusion. Hand grip is comparable to a DSLR but EOS R3 is still relatively smaller due to the fact that it is a mirrorless camera!
EOS R3 Key Specifications
Featured key specs:
Type: SLR body (Pro) style Mirrorless with support for interchangeable lenses l Lens mount: Canon RF mount l
Effective pixels: 24.1MP l Sensor: Full-Frame (Stacked CMOS Dual Pixel AF) l Image Processor: DIGIC X l
GPS l WiFi l Bluetooth l External Flash (via hot shoe) l HDMI (type-D) l USB-C l MIC port l Headphone port l
Monitor type: 3.2″ vari-angle TFT LCD l Monitor resolution: 4.15M dots l Viewfinder: OLED EVF (5.76M dots) l
Max. continuous shooting speed: 12fps (mechanical shutter), 30 fps (electronic shutter) l
ISO sensitivity: ISO100-102400; Expandable to 50-204800 l
Still image format: RAW/C-RAW, JPEG, HEIF, RAW+JPEG formats l
Movie: 6K RAW, 4K DCI, 4K UHD, FHD l Movie format: MPEG-4 AVCl H.264 l H.265
Storage media: CFexpress card (Type-B), SD/SDHC/SDXC (UHS-II supported) l
Battery: Rechargeable Li-ion LP-E19 l Battery life: 760 shots per charge (LCD screen) l
Approx. dimension (WxHxD): 150.0 x 142.6 x 87.2 mm l Approx. weight: 1015g (body only)
Early Notable Reviews
Reliable Eye Control (AF) Function
Superior Auto-Focus (AF) features and control
AF tracking detection on humans (head, eye), animals (dogs, cats, birds), vehicles (racing cars, motorcycles)
Familiar ergonomics that will make all DSLR Pro's readily comfortable
Side hinged flip-out touch LCD with high resolution
Dual card slots dedicated for CFexpress and SD memory cards
Multi-function hot shoe for external accessories
Excellent continuous shooting speed up to 30fps for electronic (silent) shutter
6K RAW video recording capability
Is It Worth To Pre-Order Now or Wait 'til 2022?
For Pro's and Canon enthusiasts, EOS R3 for sure will be a collectors item because without a doubt only a handful or limited number of units will be made available (knowing that this current pandemic is continually affecting all manufacturers worldwide and there's scarcity in the production of IC's, although it was noted that the new stacked CMOS sensor used on EOS R3 are produced in-house) which could make it a bit pricey!
Looking at the planned release date which is November 2021, it could fall on Black Friday which means many folks are leaning towards buying stuffs and one gadget that is very popular as personal gift item is the mirrorless camera. It is highly doubtful though that EOS R3 will be offered in a discounted price but it is still possible for pre-orders.
Some may consider to wait for the Christmas seasons sale before diving in! How could anyone resist the enormous discounts offered online or offline by retailers during these time of the year. And I'm sure many would be looking at EOS R3 as personal gift for someone that is very special who loves Canon mirrorless camera.
But majority of the field will wait until next year for sure where the price could definitely be reduced substantially especially if a new version is coming out and at the same time if the competitors have released their own models to divert buyers attention.
As this model EOS R3 is targeted for professionals and enthusiasts alike therefore, price tag may not really be an issue especially for those existing Canon users and not just any random mirrorless camera enthusiasts.
Beginners should not even think about this model as it will be a waste of money if you cannot properly utilize this high-end mirrorless camera.
So, there you have folks on the latest buzz about Canon's EOS R3. If you think EOS R3 is worth it, will you get one now? Please share your thoughts in the comment section!