Mirrorless digital camera is a compact digital camera with interchangeable lens similar to that of DSLR.
Since its first introduction mirrorless camera had slowly gained followers. Most notably amateur photographers and enthusiasts who wants to upgrade from a point and shoot type camera. To an interchangeable lens camera system besides DSLR's.
The early setback of mirrorless camera was due to the limited available lenses. It had struggled to persuade professional photographers to buy into the new system as they were already deeply engaged to DSLR's.
It was first viewed by many experts that mirrorless camera will not prosper nor compete with DSLR's. Not unless other main players in camera development join in the mix and invest into developing more lenses.
Birth and Origin of Mirrorless Camera
The first mirrorless camera introduced commercially was in Japan. In October 2008, Panasonic officially released its first model Lumix DMC-G1. It was also the first camera for Micro Four Thirds that was exclusively developed for Interchangeable Lens Camera (ILC) system.
An as expected, other high profile camera developers have ventured into the mirrorless camera segment. Below are some of the biggest names in the camera world that have joined the party:
June 16, 2009

Olympus Corporation released its first compact size mirrorless camera (pocketable with prime lens). The Olympus PEN E-P1 dubbed as the Olympus digital PEN was unveiled to the public.

November 10, 2009

Ricoh Company, Ltd announced its first digital camera. RICOH GXR was introduced with a radically new ideas (different from the conventional mirrorless interchangeable lens camera). The GXR system uses interchangeable lens/sensor unit- every lens comes in a sealed unit complete with sensor and image processing mechanisms to which you are basically buying a new camera every time you buy a lens. That clearly gives GXR a disadvantage as this approach was not cost effective and could've essentially swayed buyers not to consider.

January 4, 2010

Samsung announced its first mirrorless camera using a new APS-C sensor instead of Micro Four Thirds. The Samsung NX10 one of the first mirrorless cameras with an APS-C sized sensor, it was also in this mirrorless camera where they have first introduced their own exclusive lens mount the Samsung NX-mount.

May 11, 2010

Sony announced its own version of mirrorless camera. Both Sony Alpha models NEX-3 and NEX-5 are identical except for the size of which the NEX-3 is smaller. Sony entered the mix with its own and exclusive lens mount the Sony E-mount. The Sony E-mount supplements the Sony α A-mount (adopted from Konika_Minolta's AF SLR lens mount were Sony and Minolta had a joint venture when Sony entered DSLR market in July 2005). A-mount lenses can be used in E-mount cameras using the different adapters available from Sony.

June 23, 2011
September 21, 2011

Nikon launched their new mirrorless camera with emphasis on its performance as a high-speed interchangeable lens camera the Nikon 1 J1. Nikon 1 J1 is part of the Nikon 1 series with 1″ sensor size.

January 2012

Fujifilm announced their first mirrorless interchangeable lens camera the Fujifilm X-Pro1 and was launched in March 2012. On the same year September 6, 2012, Fujifilm announced similar but smaller version called XE-1.

June 2012

Canon introduced its first mirrorless camera with interchangeable lens the Canon EOS M. Being the last high profile camera maker to venture into the mirrorless camera segment, Canon have focused its design with simplified interface.
*Notes: The most common types of sensors used in mirrorless cameras are the APS-C sensor and the Micro Four Thirds sensor. And now gaining attention is the Full-Frame sensors in mirrorless camera.
Main Parts of Mirrorless Camera
Highlighted here only are the three main components of mirrorless camera. Below illustration is to provide readers a grasp of the major parts of camera.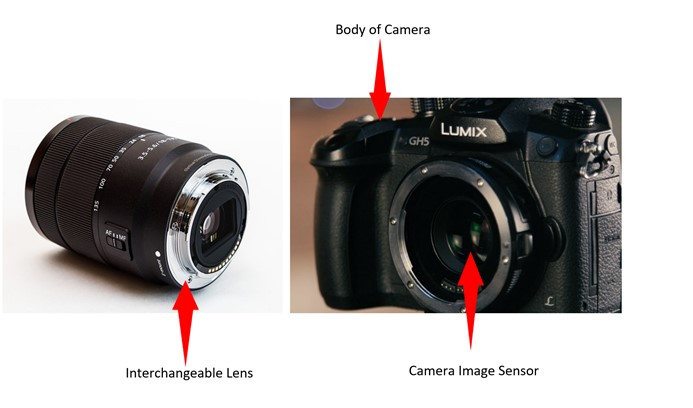 Notes: Camera features and controls varies accordingly to each manufacturers specifications and design, hence, details will not be discussed in this article. Purpose of this article is to provide basic understanding what is mirrorless digital camera.
How Mirrorless Camera Works
Below illustration explains how mirrorless camera works and also shows how it differs from DSLR.
Mirrorless camera – works without the reflex mirror (reason they're more compact). When the shutter is released the aperture opens to let the light pass through and directly to the image sensor. Most mirrorless camera designs don't include viewfinder. When composing for a photo you will need to use camera's LCD to adjust your desired settings.
DSLR camera – works with the aid of a reflex mirror (or prism) that reflects light into the optical viewfinder, allowing the person who is taking the photo to capture the image as he/she sees it. The mirror moves when the shutter is released, opening the aperture to let the light pass and to the imaging sensor that will result to a digital image.
Understanding Micro Four Thirds System
When the first Mirrorless Camera was first introduced, Micro Four Thirds was the standard used by both Panasonic and Olympus, the very first two high profile camera makers to have entered early into the development of the new system.
Micro Four Thirds camera has an aspect ratio 4:3 with an imaging size 17.3mmx13mm (and diagonal size 22.5mm).
Micro Four Thirds advocates described the system as an open standard, thus providing the flexibility to use lenses and camera bodies from different camera manufacturers.
Micro Four Thirds system boasts on its compact size sensor and high image quality, making it a desirable camera to carry anytime for its lightweight and affordability.
Understanding APS-C Format
Mirrorless camera have evolved dramatically since its first launching. With its increasing popularity and demand, manufacturers have turned its attention to developing a new format in mirrorless cameras to complement micro four thirds giving more options to its audiences and followers.
APS-C (Advance Photo System type-C)

An image sensor format roughly about the same size as Advance Photo System film negative in C (Classic) format.
Aspect ratio of 3:2 with an imaging area 25.1mm×16.7mm, this format is commonly seen on mirrorless cameras designed by *Sony, *Nikon, Pentax, Fuji, etc
**Canon however have slightly smaller APS-C sensor at 22.2mm×14.8mm (with the same aspect ratio 3:2)
High image quality at lower price compared to full-frame cameras
*Crop factor of 1.5x
**Crop factor of 1.6x
Understanding Full-Frame Format
As clamor for mirrorless cameras have grown significantly especially from the ranks of  professionals, several manufacturers have turned its attention and have developed a variety of Full-Frame mirrorless cameras to complement Micro Four Thirds and APS-C systems.
Full-Frame System

An image sensor format similar to 35mm film negative format
Aspect ratio of 3:2 with an imaging area 36mm×24mm
Current brands that have ventured into Full-Frame MILC's are Canon, Nikon, Sony, Panasonic, Leica
High image quality because of its bigger sensor
More expensive than the Micro-Four Thirds and APS-C camera systems
Bigger body than Micro-Four Thirds and APS-C systems but it is relatively smaller compared to DSLR's
Types of Digital Cameras Image Sensor
Charge-coupled device (CCD)
Electron-multiplying charge-coupled device (EMCCD)
Complementary metal-oxide-semiconductor (CMOS)
Back-illuminated CMOS.
Professionals Don't Use Mirrorless Cameras?
After more than a decade since its birth, mirrorless digital camera have competed well enough that it has gained more followers over the years. Mirrorless cameras are now widely considered a go to camera even by professional photographers. As it can now provide a wide range of selections of a compact body and lenses with specifications similar or even better than that of DSLR.
Similarly, as new technology on mirrorless camera advances it will only create significant interest for manufacturers to develop even more high-end compact mirrorless cameras at lower cost.
---
Last Updated on June 9, 2022 by Rowe