Should I buy a smartphone with good camera instead of buying a mirrorless camera? Up to this day we are still hearing this question being asked. Some would even suggest why don't just buy an Iphone. Iphone12 has a great camera better than a dedicated camera. In this article I will show you why mirrorless cameras are better than phone cameras. I hope this would be of help to beginners.
I will be focusing my comparison between my Iphone12 mini which I bought early this year 2021. And my Canon EOS M5 that I have purchased in 2019 (you can refer to the above photo). Why so? As I have mentioned many thinks that Iphone12 camera is so advance. That a mirrorless camera and or a dedicated camera won't be necessary.
But before we proceed further, lets define what is a smartphone or a mobile phone. Likewise, we'll find out the meaning of mirrorless camera or a digital camera. This is to give us idea of their primary application and or function.
Definition of A Mobile Phone and or A Smartphone
Mobile phone – A mobile phone is a portable phone that can create and collect calls.
Smartphone – A smartphone is a mobile phone that can perform functions of a computer. Built with an operating system capable of running software applications and a touchscreen for navigation.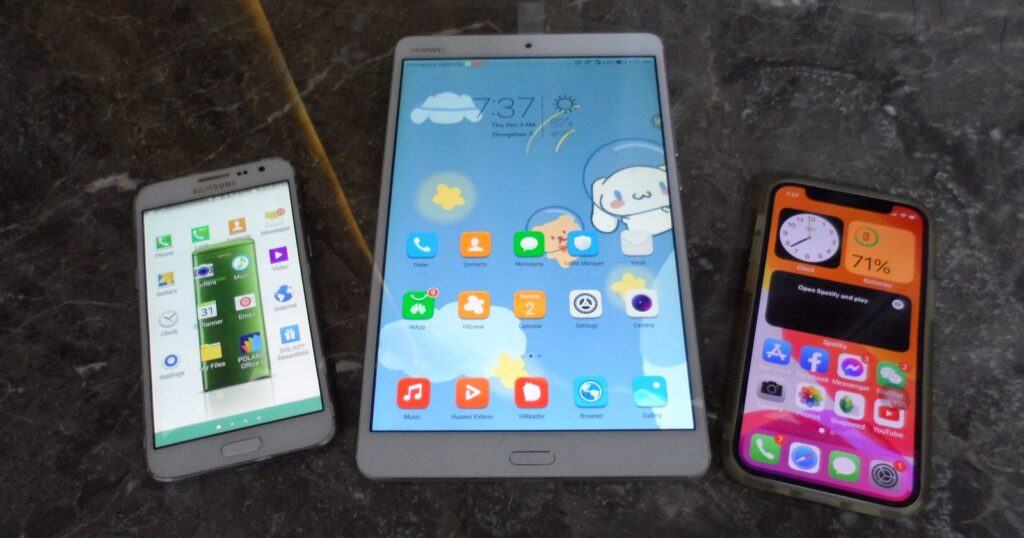 Despite the fact that newer models of mobile phones or smartphones do come with a camera feature, it still remains that their main application is to make and receive calls. 
Definition of A Mirrorless Camera or A Digital Camera
Mirrorless Camera – Mirrorless camera is a compact digital camera with interchangeable lens.
Digital Camera – Digital camera is a dedicated photographic equipment that can capture digital images that is then stored in a memory card.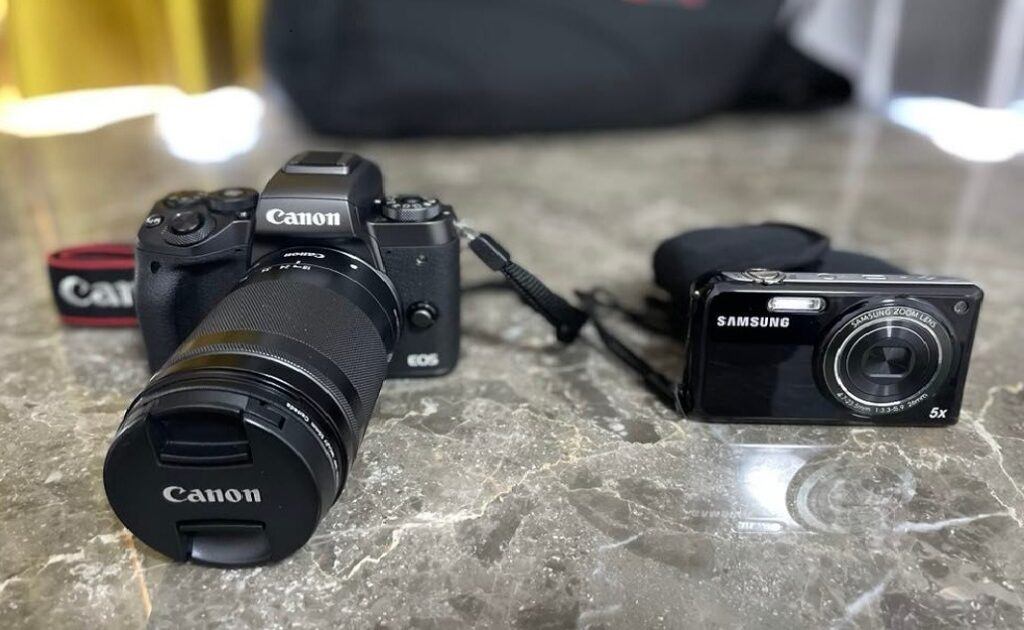 Most cameras that are produced nowadays are digital replacing the older film cameras. Currently, digital cameras are extensively integrated into mobile devices such as smartphones. Some smartphones do come with the same or more capabilities and features of dedicated cameras.
Key Specifications of Iphone12 Mini and Canon EOS M5
Type
Iphone 12 Mini (Smartphone)
Canon EOS M5 (Mirrorless Camera)
Year Launched
2020
2016
Lens Mount
Fixed
Interchangeable (EF, EF-S compatible)
Focal length
0.5 – 5x (digital zoom)
18-150mm
Effective Pixel
Dual 12MP (Rear & Front)
24.2MP
Aperture
f/1.6, 26mm (wide)
f/2.4, 13mm (ultra-wide)
f/3.5, 18mm (wide)
f/6.3, 150mm (telephoto)
Shutter speed
1/3.6″
1/4000 sec (maximum)
30 sec (minimum)
Burst speed
N/A
9fps
Chipset
Apple 14 Bionic
APS-C CMOS (22.3 x 14.9mm) sensor,
DIGIC 7 (image processor)
Video
4K, FHD, HDR
FHD, HD, HDR
Still
HEIF
JPEG, RAW
ISO sensitivity
Auto
Auto, 100-25600 steps 1/3
Memory card slot
No
1 slot SD/SDHC/SDXC (UHS-I)
Storage
64gb, *128gb, 256gb
Expandable up to 256gb
Price
(as per my purchase)
Expensive than EOS M5 with *128gb memory
Cheaper than Iphone12 mini with
zoom kit lens 18-150mm
Based on the above key specs Iphone12 mini is better than EOS M5 in terms of wide angle coverage and video as it has capability to capture 4K video. However, a dedicated digital camera is still better because it does have many other built-in features that makes it an excellent choice.
Let's Compare Actual Photograph of Iphone12 Mini and EOS M5
Below actual photographs made for both my Iphone12 mini and EOS M5. Shots were taken on the same spot using maximum focal length or magnification availabe on both device.
Both device performed well on wide angle shot. Let us compare image captures from a far distance since both are equipped with zoom features.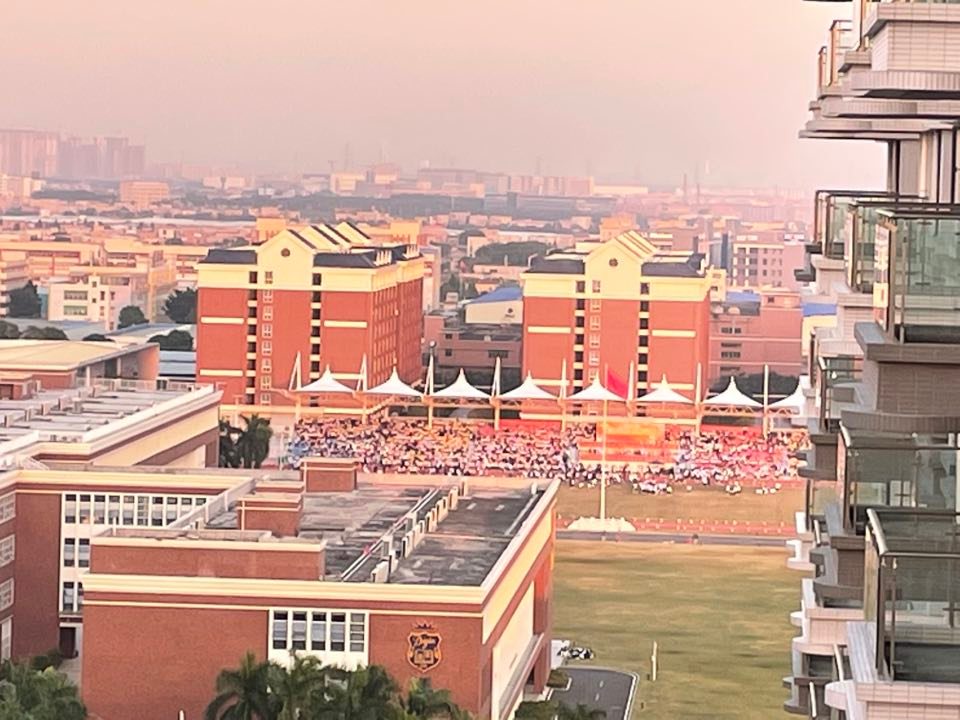 Above photo captured by Iphone12 at 5x magnification. As you can see the long capture is not sharp as you can observe that the people in the background are all blurred.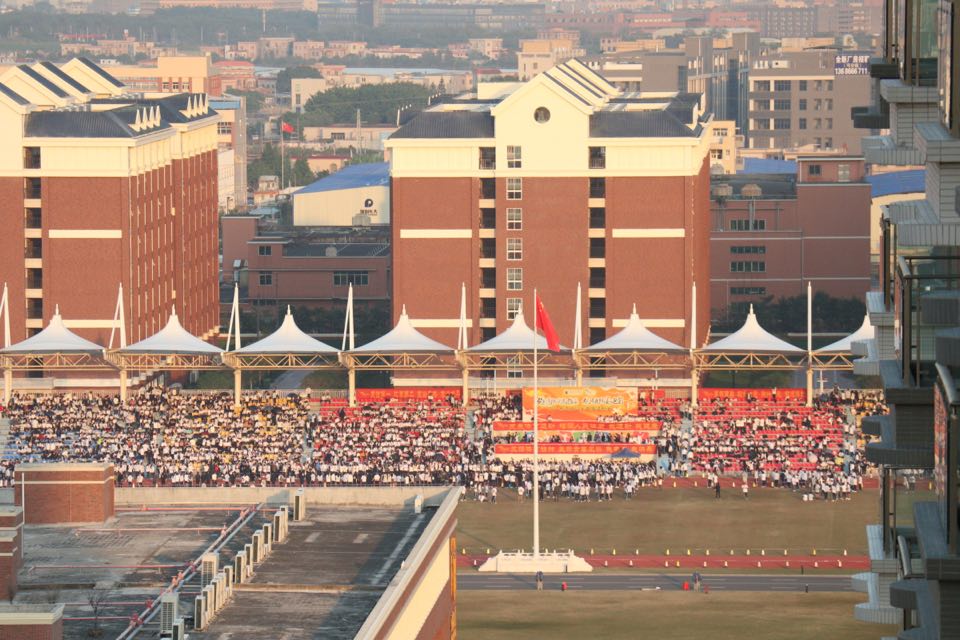 Above photo captured by Canon EOS M5 at 150mm focal length. Image quality is better and have sharper details.
Why You Should Buy a Mirrorless Camera instead of a Smartphone
Are you a beginner just like me trying to explore photography? Then the only right equipment to have is a dedicated camera and not a smartphone. The same goes if you want to chronicle something important. It could be you're travel journeys, your kids school activities, family gatherings, etc.
Having the right device could make your photography experience even more enjoyable. Personally, I have purchased my mirrorless camera for that same reason. Consequently, I have enhanced my knowledge about photography using the correct set of equipment.
Not long ago, I have followed an iphone photography academy website. For me to learn some tricks using an iphone to capture images. They have paid photography courses offered. They teaches you how to use an iphone as the primary camera.
But then I realized the awkwardness of having an iphone as a photography equipment. I'm not saying that an iphone can't be use in photography. Anyhow, I did unfollow them as I see there's no meaning as I am more inclined to learn photography the proper way.
No matter how good the iphone12 camera is, I have bought my iphone12 mini because of its small size and not because of its camera. I prefer small mobile phone wherein I can grab it by one hand when calling and texting.
And of course, I would still pick my mirrorless camera to capture images that will be kept as memories.
Advantages of a Mirrorless Cameras over Smartphones
Sensor size – Image sensors commonly used in mirrorless cameras are the Micro Four Thirds, APS-C and Full-frame sensors. They are bigger sensors than in any smartphones that will impact image quality.
Image quality – Some newest smartphones does have the ability to capture good quality image in closer distance. However, with mirrorless cameras you can even see more detailed and sharper images captured even at far distance.
Interchangeable lens – There are vast selection of exclusive lenses that are available for mirroless cameras to adopt. That would only create even more stunning images than any smartphones could capture.
Video quality – In-Body Image Stabilization as well as its lens's Image Stabilization features will provide you a clearer and stable video captures in mirrorless cameras.
Won't get outdated due to firmware updates – Smartphones does get outdated just like iphone12 whom after IOS15.1 will only get stifled and will become useless.
Conclusion
That concludes my comparison why mirrorless cameras are better than phone cameras. And as I've said, if you have the right equipment you would be enjoying photography much more than you can think of.
In my opinion, I don't see any professional photographers swapping gears that would make smartphones as their primary camera to do their job. Even for amateurs and enthusiasts a dedicated camera will still be the first choice.
Not until maybe a smartphone is then called a smartcamera that can make and receive calls.
So there you have it folks, once again thank you for reading. If you find this article helpful or you have some questions please leave a comment. I will try to answer them to the best of my knowledge.