Another way of keeping your mirrorless camera protected while traveling is to pack them in a camera backpack. And as I have already mentioned camera bag and or camera backpack is a must have accessory if you own a mirrorless camera. In this article I will walk you through some of the best mirrorless camera backpack for your consideration.
Camera backpack offers more space than the normal camera bag that will allow you to load other necessities apart from your gears. It is another great option in making sure that you could carry all your photography gears with you. Whether you're going on a vacation, hiking or simply traveling doing some urban photography but would like to bring along your mirrorless camera and all of your other photography stuffs.
To boot, camera backpacks are an essential accessory for professionals and even for amateur photographers who are serious with photography. It allows them to carry all their photography gears for their own convenience. Normally they have a whole bunch of gears to carry when doing a photo shoot especially outdoors. Having to carry those gears in one backpack makes them organized as well as on the go anytime.
If you are a beginner who is considering of buying a camera backpack, you should check what kind of camera backpack will best suit your need. Owing to the fact that your gears are still limited at this point. Therefore, check or ask yourself if you really need a camera backpack before jumping in.
For camera enthusiasts who are looking for a mirrorless camera backpack that's good for travel, my recommendations below might be also the right one for you.
---
Notice: "As an Amazon Associate I earn from qualifying purchases". There are affiliate links on this page. I will get a small commission at NO EXTRA COST to you once you decide to buy through these links. Full disclosure.
---
Best Mirrorless Camera Backpack (Updated List)
| | | | |
| --- | --- | --- | --- |
| # | Overview | Product Description | Rating |
| 1 |   | WANDRD PRVKE Photo Bundle 31L (Black) | Best Overall |
| 2 |   | Shimoda Explore 40 (Blue Nights) | Best Value |
| 3 |   | Lowepro m-Trekker BP 150 (Charcoal Grey) | Best Affordable |
Why You Should Get Best Mirrorless Camera Backpack
If you are travelling and needed the best camera backpack to keep up all your photography kits and gears.
I have mentioned repeatedly that camera bag and or camera backpack are neccessary to protect your mirrorless cameras. You already have thrown some of your hard earned money on your mirrorless camera. Then I guess it is only right to also get the best protection that you can to preserve them.
What To Look When Buying Mirrorless Camera Backpack
Everyone has preferences on what is important or not when deciding on a mirrorless camera backpack. But I want to offer my opinion on the most important things that the mirrorless camera backpack should have.
Full Protection
Main reason why you are buying the best mirrorless camera backpack is to protect your expensive gears- from mother nature and theft. Therefore, it is but right to put this on top of the list when buying your camera backpack.
Basically, all camera backpack materials are water resistant. However, to ensure double protection of your valuables most camera backpacks also comes with an additional shielding, an extra bag raincoat cover. This is to ensure that your gears are still protected in case you are caught in the middle of a heavy rain.
Another area of concern is the accidental strikes and bumping while traveling. Your mirrorless camera will be safer if your camera backpack offers better cushioning with thicker inner cubes and paddings.
Last but not least of all concern- theft. It's not new especially in all of tourists spots. They're there just lurking and waiting for the right moment so be very vigilant. Your camera backpack is always a target especially if it's screaming "Come get, I have photography gears inside" kind of camera backpack. The simpler your camera backpack looks the better your odds of not being victimized.
Size
Always consider the size of the camera backpack that would best fit for your own need. It is one important aspect yet tricky and you should be aware before buying.
Airlines have policy about carry-on luggage (maximum allowed by most airlines- 22cmx35cmx56cm or 9″x14″x22″ inches). Thus, if you want that your camera backpack goes with you and into the cabin make sure that you have the right size.
Comfort
This is another important attribute to consider when buying a camera backpack. It must be comfortable as it will be on your back as long as you are out shooting photographs.
Accessibility
Your camera bag should offer "accessibility". I'm referring about the convenient access to your gears while on the go. But make no mistake and make sure to always keep your camera bag zipped or locked. And access your gears where it is more convenient while keeping your property safe from theft.
Reputable brand
Camera backpacks are not cheap products. Therefore buying one with a respected brand for camera backpacks will guarantee that you are getting the best quality in exchanged for your hard earned money.
Best Mirrorless Camera Backpack Product Reviews
1. WANDRD PRVKE Photo Bundle 31L, Black (Best Overall)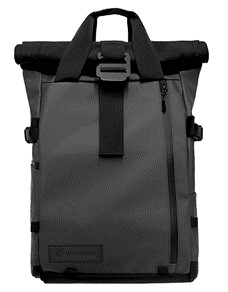 Key features: Urban inspired design, side quick camera access, adjustable roll top for added extra space when needed, laptop and tablet sleeve (fits 15″ Macbook Pro & Ipad Pro), customizable modular camera cubes for complete camera kits up to 8 lenses, secure passport pocket best storage of important documents and cash, converts into fully functional backpack when modular camera cubes are removed, versatile all around traveller camera backpack.
| | |
| --- | --- |
| Brand | Wandrd |
| Style | Backpack |
| Capacity | 31L (also available in 21L) |
| Material | Water-resistant tarpaulin and nylon dobby |
| Color | Black |
| Dimension (approx.) | 7.36 x 12.28 x 18.7 inches |
| Weight (approx.) | 3.4 lbs |
| | |
| --- | --- |
| Pros | Cons |
| > Great bag and excellent quality | > Pricey |
| > Better weight distribution | > Side access hatch is small with Pentax K1-II mounted with grip |
2. Shimoda Explore 40, Blue Nights (Best Value)
Key features: Rear and side access points, height adjustable harness allows backpack to fit short or tall individual, multi-functional core unit modular camera insert system, shoulder straps features fast access pocket for common and frequently accessed items, lightweight water-resistant materials. Backpack airflow system and weight distribution makes Explore 40 an ideal camera backpack for hiking/camping.
| | |
| --- | --- |
| Brand | Shimoda |
| Style | Backpack |
| Capacity | 40L |
| Material | Nylon Carbonate Ether PU (coated shell) |
| Color | Blue Nights |
| Dimension (approx.) | 10.2 x 11.4 x 22.4 inches |
| Weight (approx.) | 2.94 lbs |
| | |
| --- | --- |
| Pros | Cons |
| > Comfortable | > Rain cover not built-in nor included |
| > Spacious, lighweight, good design | > Lack of side pocket for bottle, water bottle on shoulder strap too small |
| > Fits well in a small overhead bin | > Add-ons cost adds up |
3. Lowepro m-Trekker BP 150, Charcoal Grey (Best Affordable)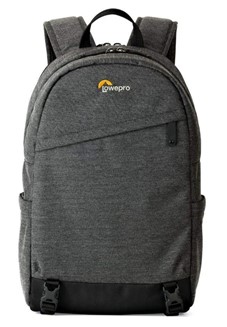 Key features: Simple (discreet) design minimizes camera backpack profiling, side access safeguards theft, flexible interior organizes mirrorless camera and other gears, CradleFit compartment protects up to a 12" laptop or 13" tablet, All Weather AW Cover provides protection particularly against rain and other elements.
| | |
| --- | --- |
| Brand | Lowepro |
| Style | Backpack |
| Material | Gray Canvex (special durable fabric) |
| Color | Charcoal Grey |
| Dimension (approx.) | 5.83 x 11.34 x 17.64 inches |
| Weight (approx.) | 2.03 lbs |
| | |
| --- | --- |
| Pros | Cons |
| > Good for travel photography/street photography | > Smaller size |
| > Light and the fabric quality is nice | |
| > Waterproof, low profile and slim camera backpack | |
Best Mirrorless Camera Backpack FAQ's
Can it fit a DSLR camera?
Yes. Even the Lowepro m-Trekker BP 150 could fit a DSLR but it is best utilized for Mirrorless cameras. Same way with the WANDRD PRVKE 31L its also best suited for MILC's.
Is it comfortable in warm weather?
It kind of somewhat warm because of the foam padding but you will still get some space for an airflow.
Note: Please scroll down 'til the bottom of the page when viewing these camera backpacks in Amazon to find out more about some answered questions as well as reviews that might be of help to you.
---
Conclusion
So that concludes our list of some of the best mirrorless camera backpacks on the market today. For travellers who are looking for the right camera backpack to load all your photography gears and carry them along. The above list could be just the perfect choice for you.
Personally, I still don't need a camera backpack as my mirrorless camera equipment are still limted at this point. Therefore, I just make use of my existing camera bag insert it in my ordinary backpack together with my other accessories such as tripod, charger, cleaning kits and so on. But I'm sure time will come that I will also be needing camera backpack.
There you have it folks, once again thank you for reading. If you find this article helpful or you have some questions please leave a comment. I will try to answer them to the best of my knowledge.
---