Is there really such a digital camera for night photography? What about best mirrorless camera for night photography for that matter? Does it exist?
These are common questions that we often see or hear especially from beginners. In this article I will glance through some details relevant to capturing night scenes. I will try to be practical and not complicate things so it will be easier to understand and that it could benefit our readers especially beginners.
Shooting at night or even at a low light settings are tricky. First and foremost you must have the right equipment to get the desired outcome. Without the right set of photography gears you will only get dejected seeing all of your blurry photographs.
So going back to the question, is there really a mirrorless camera for night photography? Let's find out.
Featured image: Above image is an out of the camera jpeg. Photo taken handheld but my arm rested on metal support using my Canon EOS M5 with kit zoom lens 18mm-150mm (Shutter speed 1/6sec, Aperture f/5, ISO6400). It is the view from our home (12th floor).
Can All Mirrorless Cameras Be Used For Night Photography?
Primarily all mirrorless cameras are designed to capture moments either at daylight or at night time. On a dim or a well lit environment and settings. And with that being the case, then the answer to the prevailing question whether there are mirrorless cameras for night photography is a resounding YES!
Regardless if it's Micro Four Thirds, APS-C and or Full-frame formats they are all capable of capturing night photographs. The intriguing question here would be, who performs better. And this had been always a subject for arguments with many favoring the bigger sensors to be better in low light.
The notion that if your mirrorless camera is able to perform well at night then you won't get any trouble when shooting at daytime. And that is true provided you have the correct set of equipment.
Therefore, it is important to learn the fundamentals in choosing mirrorless cameras to ensure you'll get the best out of your night photography experience.
Image Sensor Size – Does it really matter?
Most of the photography experts were all in agreement that the bigger the sensor size of a mirrorless camera then it will essenstially improve its low light performance. Taking that into account lets take another look at the three main sensors used in mirrorless interchangeable-lens camera system.
FULL-FRAME image sensor

Sensor size 36 x 24mm (Nikon, Canon, Panasonic, etc)
Percieved to improve low light performance because of its bigger sensor
Bigger sensor than APS-C and Micro Four Thirds
Will be more expensive
APS-C image sensor

Sensor size 23.5~23.7 ×15.6~15.7 mm (Nikon, Sony, Fujifilm X, Samsung NX, Pentax K)
Sensor size 22.3 x 14.9 mm (Canon)
Bigger sensor than Micro Four Thirds thus expected to perform better in low light than MFT
Will be more expensive than MFT but should be cheaper than FF
MICRO FOUR THIRDS image sensor

Sensor size 17.4 ×13 mm (Panasonic, Olympus)
Smallest sensor for MILC system
Compact and should be cheaper than APS-C and FF
Basing on the above information, Micro Four Thirds is the least to perform at night or low light settings if we are only to consider image sensor size.
However, there are other elements that would make MFT perform at low light even better than any APS-C or Full-frame mirrorless camera. Lets dive in further.
Lenses That Are Ideal For Night Photography
As I have dicussed before in my article about the Types of Mirrorless Camera Lenses. Fast lenses or lenses with lower aperture (f/stop) peforms effectively at night or low light settings.
Lenses with aperture beginning from f/2.8 and greater (greater means with lower f/stops- ex. f/2.0, f/1.8, f/1.4) will be a very good lens for night photography.
Take a look at the sample photos captured by Micro Four Thirds mirrorless camera Lumix GF2 with 20mm lens f/1.7 ASPH (these are out of camera images cropped to limit the size)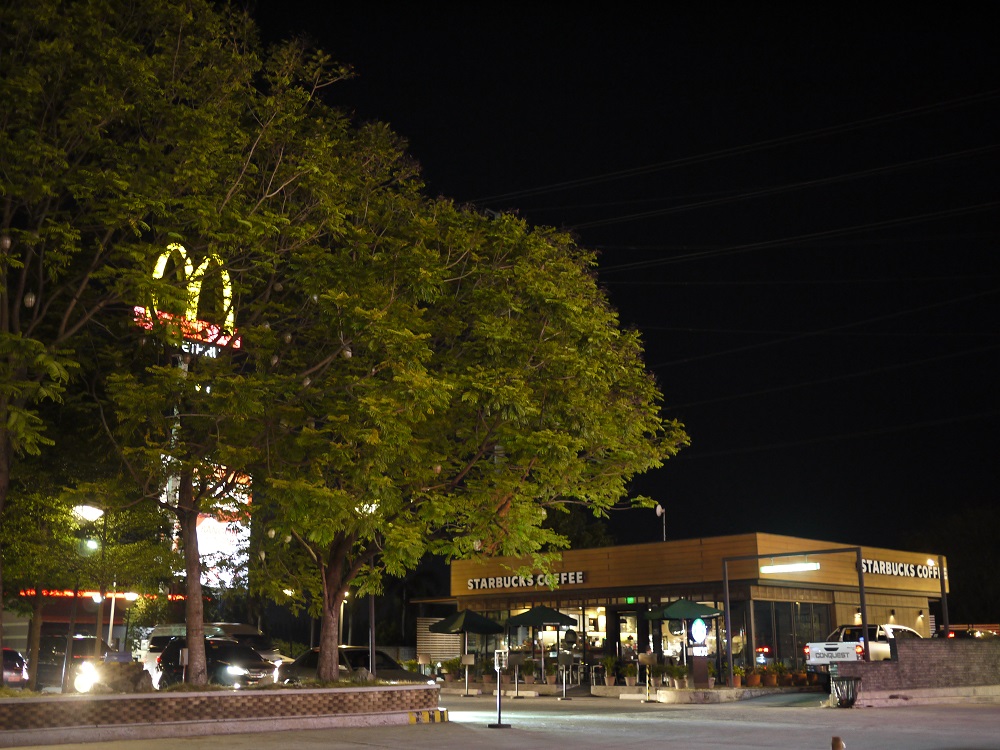 Likewise, below sample photos of APS-C mirrorless camera Canon EOS M5 with kit lens 18-150mm f/3.5~6.3 IS STM. These are all out of the camera jpegs (cropped to limit the size).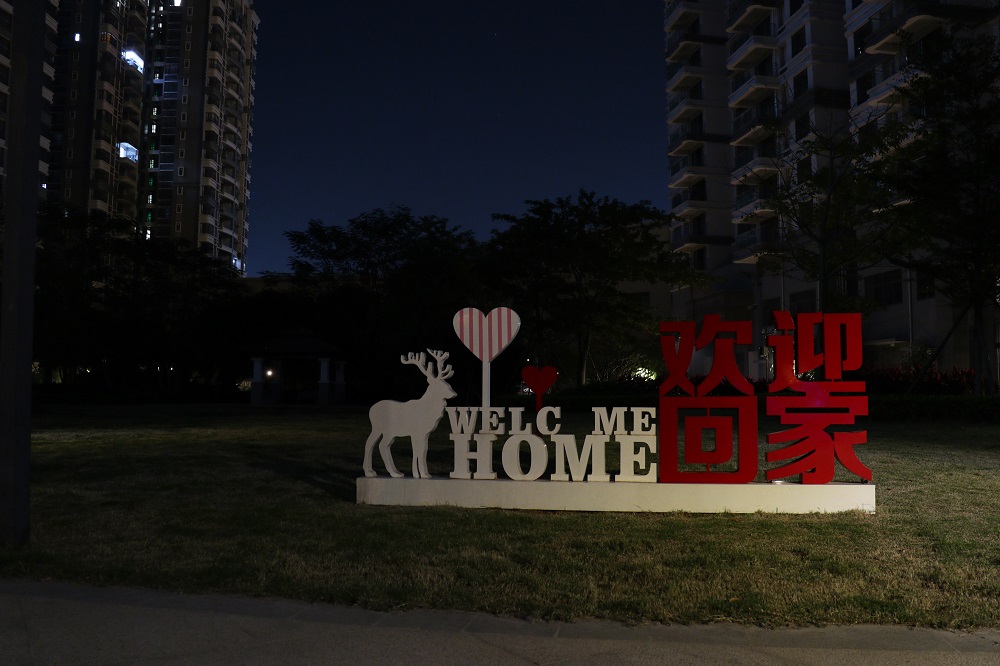 These are all handheld shots and you can see that Lumix GF2 photographs are very sharp as well as properly exposed . Thus, debunking the argument that bigger sensors are always better in low light.
But wait, I know many of you will not agree. If we are only talking about having all the same type of lens and settings then okay I can agree that the bigger sensors may out perform the smaller micro four thirds.
Just the same, thats why there are workarounds to compensate the weakness to make it better and stand out. Because thats exactly what you will do with bigger image sensors mirrorless cameras with a subpar kit lens.
Other Elements That Would Benefit Your Night Shooting
Some characteristics a mirrorless camera would preferably have in order to perform better at night or at low light condition and its overall performance in general.
IBIS (In-Body Image Stabilization)

This is relatively a new technology, so for newer mirrorless cameras IBIS would be a very welcome addition however, not all models have this feature.
It aims to stabilize your mirrorless camera's sensor to provide you sharper still image and shake free video captures.
Best used when shooting handheld.
Lens Image Stabilizer

This feature is built on the lens with the same intention- that is to minimize hand shake.
Many mirrorless cameras don't have IBIS function so having a lens with Image Stabilizer or Vibration Reduction will be to your advantage.
Its benefit is visible when shooting zoom and video recording.
Best used when shooting handheld.
Additionally, some accessories that are also important when shooting at night (as I have discussed in my previous article about digital cameras accessories).
Accessories for night shooting

Tripod – to stabilize your mirrorless camera (when your mirrorless camera is docked on tripod you may need to disable IBIS feature).
Remote shutter release (some mirrorless camera may not support this feature, however this will be beneficial when you're set-up for long exposure shooting).
These are add-ons that are equally important to have in order to improve your night photography.
Conclusion
There you have it folks, we're able to lay down the fact that all mirrorless camera can be used for night photography regardless of the image sensor size.
For professionals and enthusiasts, the best mirrorless camera for night photography would be bigger sensor with fast lens and with in-body image stabilization or lens image stabilizer. It will always be performance over price (usually price won't be an issue for pros and enthusiasts).
While for beginners the best mirrorless camera for night photography will depend always on their budget. This means cheaper mirrorless camera preferably with lens aperture of f/2.8. This will be possible to have on MFT and APS-C formats.
Once again thank you for reading. If you find this article helpful or you have some questions please leave a comment. I will try to answer them to the best of my knowledge.
---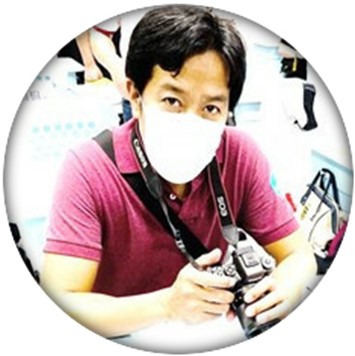 About Rowe Medialdea:
Hi my name is Rowe Medialdea, a mirrorless camera and photography enthusiast. The objective of this website is to help you choose the best mirrorless camera for your own need. And for that, I will do my best to be your friendly guide to best mirrorless cameras.
---